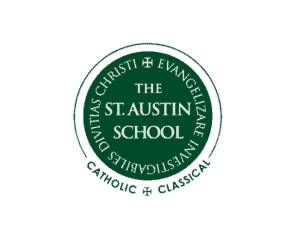 The St. Austin School provides a rigorous academic program which prepares our students to excel in secondary schools of the highest caliber.
In collaboration with our families, we help form students in Christian virtues and establish the practice of the Catholic Faith.
Evangelizare Investigabiles Divitias Christi
The motto of the school is taken from St Paul's Epistle to the Ephesians:
To preach…the unsearchable riches of Christ 
(Ephesians 3:8)
There is a two-fold meaning to this text. Firstly, the teachers of the school wish to bring St Paul's inspired wisdom to their teaching. The transmission of the Christian faith consists primarily in proclaiming Jesus Christ in order to lead others to faith in Him (Catechism of the Catholic Church, 425 ff).
And secondly, we hope that our children, when they are fully formed, will likewise…burn with the desire to proclaim Christ:
We cannot but speak of what we have seen and heard – (Acts 4:20, Catechism, 425 ff).
1809 Des Peres Rd
Town and Country
Missouri
63131
United States