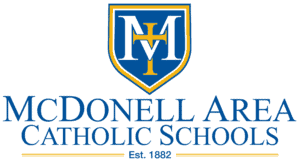 OUR MISSION
McDonell Area Catholic Schools are committed to the formation of community, academic excellence and the spiritual and physical well-being of each student in the Spirit of Jesus Christ.
OUR VISION
We are the school of choice for an excellent Catholic faith-based education within the Chippewa Falls area. We welcome all families to be a part of our school community no matter their faith or financial means. In partnership with our parents, we form the whole child in support of our values and mission.
Our vision of the whole child consists of a lifelong learner, who upon graduation, is academically prepared for post-secondary education and career, grounded in relationship with Jesus Christ, balanced physically and emotionally, and actively engages as a servant leader in family, parish and civic communities.
OUR CORE VALUES
Faith, honor, academic excellence, healthy living, community, and servant leadership
1316 Bel Air Blvd
Chippewa Falls
Wisconsin
54729
United States